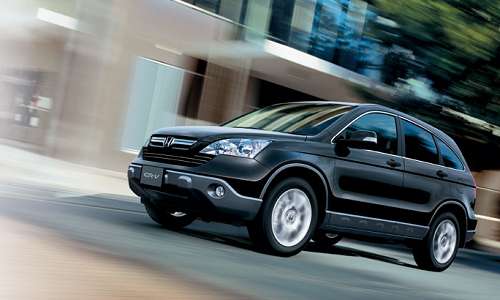 HONDA CR-V REVIEW
Honda CRV is believed to be first small car like SUV. Instrumental panel inside the car is well designed, which is also very easy to be controlled. With enough cargo space it is equipped with many convenience features along with a foldable picnic table under the trunk carpet. For normal conditions Honda CRV is powered by front wheels. In harsh situations rear wheels can also be made to use. Very stylish interiors, powerful engine and many safety features like front seat airbags, front and rear side curtain airbags, antilock brakes, brake assist, electronic brake force distribution and vehicle stability assist with traction control are the major attraction in Honda CRV.
Honda CR-V Description :
Honda CR-V was first introduced in 1996. It was one of the first small car-like SUVs on the market. Even though it was slightly underpowered (126 hp), many customers appreciated the unique combination of low fuel consumption, all-wheel drive, spacious interior and reliability. Thanks to unibody construction and light weight (only 3160 lb or 1433 kg), the Honda CR-V has very predictable car-like handling. Inside you will find well-designed, user-friendly instrument panel, easy to use controls, lots of cargo space and many convenience features, including even a fold-out picnic table under the trunk carpet. There are number of cup holders and storage compartments, there is even a storage box under the front passenger's seat. The rear seats fold almost flat for extra cargo space. The Honda all-wheel drive system is very helpful on slippery roads, although it's not designed for real off-road adventures. In normal conditions the Honda CR-V is powered by the front wheels. As the front wheels lose traction and start slipping, the rear wheels kick in to help. This is accomplished through the use of viscous clutch to engage the rear wheels. The CR-V comes in three trims: the LX, the EX and the EX-L. It is available in both front- or all-wheel drive. There are multiple safety features including front seat airbags, front seat-mounted side airbags, front and rear seat side air curtains, front seat active head restraints, antilock brakes, brake assist, electronic brake-force distribution and Vehicle Stability Assist with traction control.
Honda CR-V Pros :
Very Stylish and cosy interior, Powerful engine, Very comfortable, Spacious.
Honda CR-V Cons :
Overall price and maintainence cost are high, Fuel econonmy is not good.
collapse